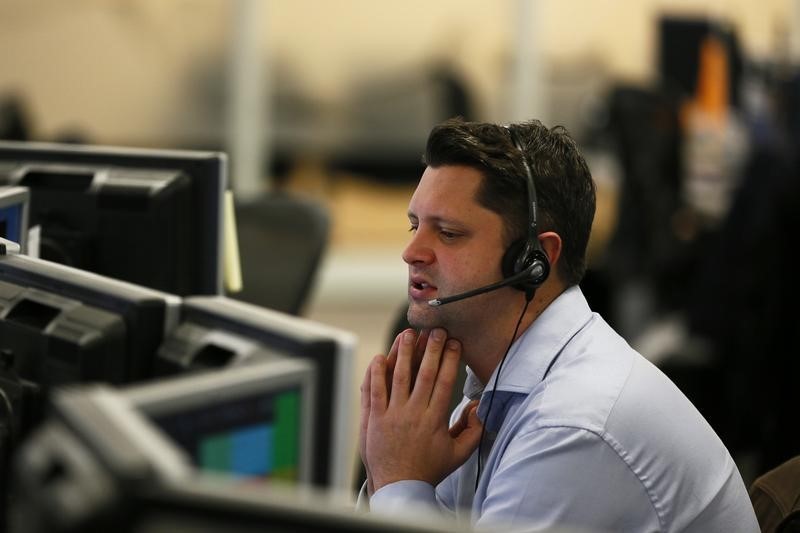 Source: Reuters
Here are the top five things you need to know in financial markets on Wednesday, September 28:
1. Oil rebounds ahead of OPEC meeting and U.S. inventories
Oil prices rebounded on Wednesday after plunging 3% a day earlier, while looking ahead to the possibility that the Organization of Petroleum Exporting Countries (OPEC) could outline details of a potential agreement to freeze production at its official meeting in November.
Saudi Arabia and Iran dashed hopes a day earlier for a formal agreement to be reached on Wednesday afternoon when major oil producers meet at 10:00AM ET (14:00GMT).
Investors also looked forward to the latest reading on levels of U.S. crude stockpiles. On Tuesday, data from the American Petroleum Institute showed a surprise draw in U.S. crude stockpiles of 752,000 barrels in the week ended September 23, compared to expectations for a build of 2.8 million.
The U.S. Energy Information Agency will release the official data Wednesday at 10:30AM ET (14:30GMT) with consensus expecting inventories to drop by 14,000 barrels.
U.S. crude oil futures gained 0.45% to $44.87 at 6:00AM ET (10:00AM GMT), while Brent oil rose 0.54% to $46.77.
2. Yellen on tap amid a swarm of Fed speak
After holding off on a rate hike last week, the Federal Reserve (Fed) is keeping itself in the market's sights, with its chair Janet Yellen testifying before the House Financial Services Committee on regulation and supervision Wednesday at 10:00AM ET (14:00GMT).
Her comments will be monitored closely for any new insight on policy. Last week, the U.S. central bank kept interest rates unchanged but hinted that an increase could come in December if the job market continued to improve.
Furthermore, a swarm of Fed officials are scheduled to speak throughout the day.
Fed speakers include Minneapolis Fed president Neel Kashkari at 8:45AM ET (12:45GMT), St. Louis Fed president James Bullard at 10:15AM ET (14:15GMT) and Chicago Fed president Charles Evans at 1:30PM ET (17:30GMT).
There are also appearances by Cleveland Fed president Loretta Mester at 4:35PM ET (20:35GMT) and Kansas City Fed president Esther George, who speaks at 7:15PM ET (23:15GMT). Both are seen as hawks by the market after they dissented at the last meeting and voted to raise rates.
Markets are currently pricing in the next hike for December with a probability of 53.1%, while odds for the November meeting stood at just 10.3%, according to Investing.com's Fed Rate Monitor Tool.
3. Draghi to come under German fire
Not to be outdone by his American counterpart, European Central Bank (ECB) president Mario Draghi is set to face off against his biggest critics at the Bundestag.
German lawmakers have criticized the ECB, claiming its loose monetary policy has hurt savers and weakened banks.
The closed-door meeting begins at 9:30AM ET (13:30GMT) but Draghi will give a press statement tentatively scheduled for approximately 11:00AM ET (15:00GMT).
Draghi appeared to have prepared for the meeting with the Bundestag as he defended ECB monetary policy earlier on Wednesday in a speech delivered to the ECB Annual Research Conference.
Draghi also called on the need for other policy areas to take action as the euro area central bank is already operating near the "lower bound" of interest rates.
EUR/USD was unmoved by the remarks, slipping just 0.03% to 1.1213 at 6:01AM ET (10:01AM GMT).
4. Talk of state contingency plans for Deutsche Bank
Deutsche Bank rebounded on Wednesday from record lows hit a day earlier as investors continued to worry over Germany's largest lender being slapped with a $14 billion fine by the U.S. Department of Justice for allegedly mis-selling mortgage-backed securities in the run-up to the financial crisis.
Shares of Deutsche Bank (DE:DBKGn) were up 2% on Wednesday amid a Die Zeit report that the German government was preparing a contingency plan to shore up the bank's capital.
However, Deutschebank chief exec John Cryan declared that state aid was not an option, while Reuters reported that German financial regulator Bafin was not working on a rescue plan.
5. Global stocks mixed ahead of OPEC and Yellen
European stocks traded higher on Wednesday, as investors focused on the highly-anticipated meeting of major oil producers scheduled later in the day and the Deutsche Bank rebound reduced bearish sentiment.
Earlier, Asian stocks closed mostly lower as Japanese Prime Minister Shinzo Abe vowed the government would continue to work closely with the Bank of Japan to boost growth and prices.
U.S. futures meanwhile pointed to a flat to lower open as market participants showed caution while waiting for details from OPEC and the flurry of comments from Fed officials.
At 6:07AM ET (10:07GMT), the blue-chip Dow futures slipped 9 points, or 0.05%, S&P 500 futures inched down 3 points, or 0.13%, and the Nasdaq 100 futures gave up 2 points, or 0.05%.
Source: Investing.com