By Jonah Ollman
Job hunting is an arduous, long, stressful process, so job seekers could use all the help they can get. No longer the days of scouring the newspaper classifieds section, the job hunt world is now teeming with tools for employers and job hunters to help them along their way. Here are ten great tools to help job seekers find the perfect place for them to work.
1. LinkedIn 


This may be obvious, but LinkedIn, is still one of the best ways to get a leg up in the job world. Aside from being able to network with colleagues, join interest groups, and find connections to companies you aspire to work for, thousands of the world's biggest companies post their job listings on the site, allowing to search for tons of jobs in the same place. If you are looking for a job, this is a great place to start.
2. The Muse 
A relative new-comer on the scene, The Muse is almost like a Millenial-friendly version of LinkedIn, except without the network aspect. There are no profiles in The Muse, just job advice, interview tips, and lots of great job listings. The Muse also offers great office photos and interviews with companies so you can learn a bit about a company's personality and character before applying to a job there.
3. Social Media 
It turns out that Facebook and Twitter are for more than just seeing pictures of your Aunt Barb's new cat. Both social platforms are great for research and can help you get in contact with people you hope to network with. If there's someone you'd love to chat with about their job or company, try tweeting at them. They will likely respond, and if not, you've wasted all of five seconds.
4. Hired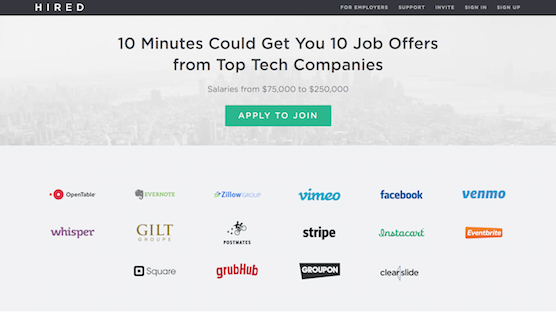 Hired is extremely focused on tech jobs, but for those whom it applies to, it is an incredible website. Instead of having you do the searching, Hired allows you to make a profile that includes your experience, skills, and what you want in your next job, and then it decides if you're a strong candidate for the type of job you want. If so, the site shops your resume around to a large variety of tech companies and they can send you an offer immediately, directly through the site. Imagine that.
5. AngelList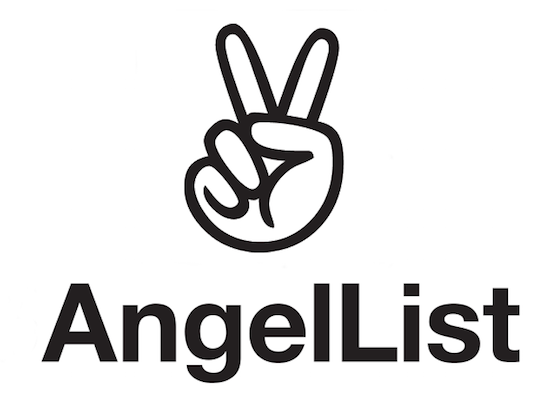 If you're looking for the quick, exciting, fast-moving pace of a startup, AngelList has them all. The site's purpose is twofold. First, young startups can use the site to find angel investors who may help fund the early stages of the company. On the other side, startups can also find employees (you!). You can browse thousands of young startups and click "I'm Interested" about any of them. This notifies them to check out your profile and they can send interest back your way, initiating an automatic email introduction.
6. Switch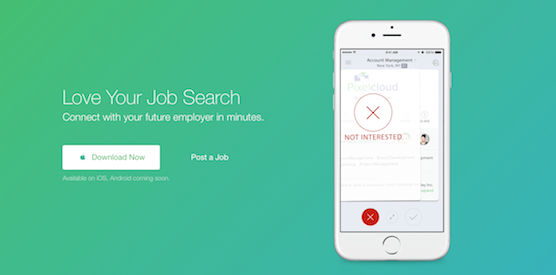 Like Tinder for job searching, Switch makes it simple. After filling out your basic information and job experience, you can browse jobs by function and location and get presented with the ubiquitous 'swipe left, swipe right' interface that makes it so easy for you to quickly sort through 20 jobs at a time. The quality of the jobs is not always great, but you can use this app in five minutes a day, which can't hurt.
7. Glassdoor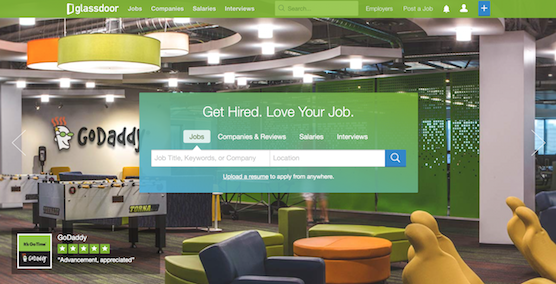 When you're about to interview at a company and you're not sure what the culture is like, or if they tend to ask tricky questions, Glassdoor will be your guide. The site offers a wide array of unique benefits, the first being employer reviews. They have a database of anonymous job reviews of current and former employers to help you judge if you will like to work at a particular company. They can also often tell you what salary offer you should expect. The best part is the interview reviews. These can be an extremely helpful way to prepare for an upcoming interview, especially if all the reviews alert you that you need to prep a certain way.
8. Poachable 
The most passive job search tool out there, with Poachable you simply make a profile and wait. They will send you recommended positions from time to time, tailored specifically to your profile. No extra work required.
9. JobHero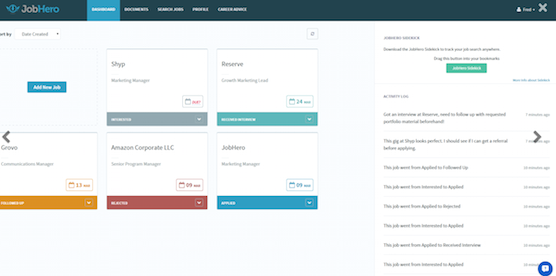 If all these tools are getting to be a bit overwhelming, turn to JobHero, an all-in-one job search dashboard. On JobHero, you can manage all the various jobs you want to apply for in one place, track your progress, and even set reminders to follow up with contacts or to finish that application you never got to. You can upload contact info and essentially keep everything organized during this extremely stressful time.
10. Pymetrics 
Now, for a bit of fun, turn to Pymetrics. This young website has you complete a set of mind puzzles and games, with the hopes of decoding your personality and many of your skills from how you complete the various tasks. You then are shown a brief personality analysis that matches you up with job functions that would fit you well and companies that have openings in those fields. Can't be so bad to play a few little puzzles in between job applications, and who knows, maybe they really can figure out who you are based on some quick mind games.
Source: Paste